The sun was shining on Monday morning, and around 200 whales were swiming around Faroe Islands. Somebody spot them at the sea, the news spread around and in few hours the boats surrounded the whales and forced them to swim ashore. This hunt is an old Faroese tradition, the meat from the catch is divided to the people who participate in killing and processing the catch. It is not sold commercially.
Niekto ma prosil aby som tu napisal nieco aj po Slovesnky tak idem na to.
V pondelok rano sme sa zobudili do krasneho slnecneho a dna a niektorim ludom sa nalada este zvetsila ked sa dozvedeli ze su pri ostrovoch velryby. Vydali sa na polovacku. Velryby sa tu lovia len ked su pri brehu. Nehladaju ich a ani nenahanaju po mori. Len ked niekto uvidi stado velryb pri ostrovoch tak sa ide na lov. Clovek co uvidi velryby hned posle spravu svojim znamym a ti dalsim znamym a takto sa sprava retazovo rozsiri. Ludia si zoberu volno z prace nasadnu do clnovo a obklucia velryby lodkami a pomaly ich tlacia k brehu. Tam uz caka dalsia partia ludi, ktori potom co velryby pridu k brehu skocia do ladovej vody a podrezu im krky az chrbtici aby im prerezali miechu. Znie to surovo, ale je to kvoli tomu aby tie velryby dlho netrpeli.
Ja som sa dostal na plaz az po zabijacke, takze dalej nasleduju fotky.
I came to the beach after the killing was over and here are the pictures I captured.
Vela ludi sa zhromazdi na plazi, niektori sa len prizeraju a niektori pomahaju. Ako som uz spomenul, ked sa ide na velryby nie je problem dostat z prace volno.
People are gathered on the beach. Many came to help, and many came just to watch.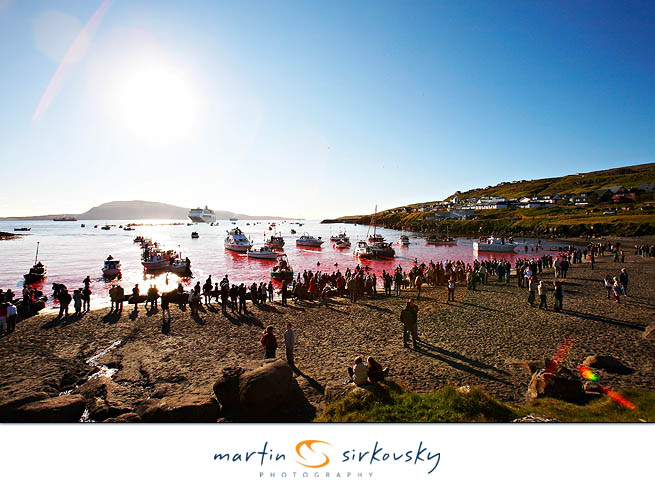 Vela deti tiez nejde do skoly a prizeraju sa, pomahaju a ucia sa, aby mohli pokracovat v tradicii po svojich rodicoch.
Many children are also present. They do not go to school and many people do not go to work, when there is a whale killing going on.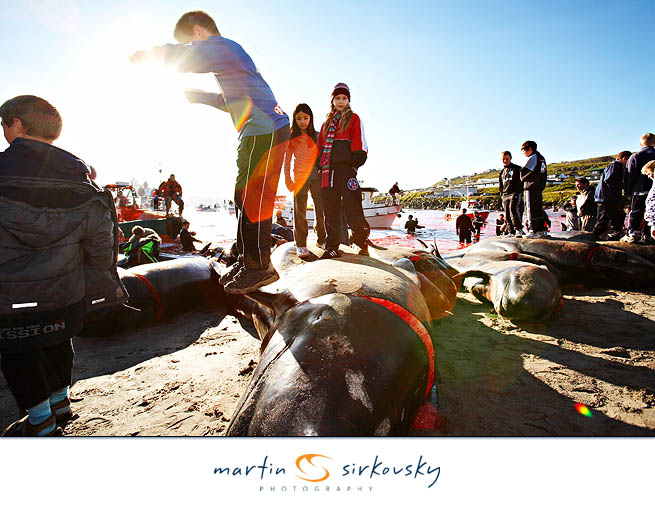 Sea turns red!
More zmeni farby od tolkej krvy a zraloky su na ceste. Ale este nikdy sme ziadneho nevideli pri brehu. Ale v okoli plavaju stale.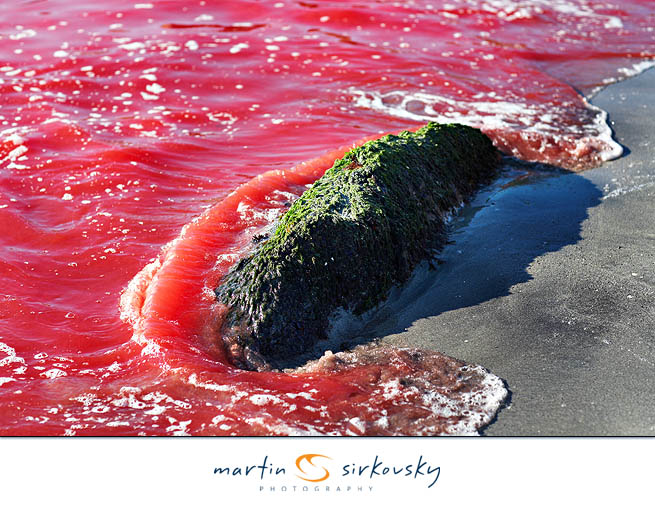 Ludia tlacia velrybu naspet do mora, kde ju nejaka lod odtiahne na miesto kde ich budu spracovavat.
People are pushing whale back to the sea for boat to pull it to another place where the animal will be processed.
Kazdy kto ma lod a moze pride a pomaha.
There are many boats at the sea, helping to pull whales out from the beach.
Potom co ich lodky pritiahnu do pristavu, uviazu ich o molo a postupne ich zacnu vytahovat zeriavom z vody.
Whales tied in the harbor, waiting to be pulled out of the water.
The whales are pull out from a water by a crane.
V pozadi si mozete vsimnut turisticku lod, co prave v to rano dorazila do Torshavnu. Boli to turisti z Holadnska a vela z nich si myslelo ze sa to robia len pre zababu ako toreadori v Spanielsku. Ale boli prekvapeni ked sa dozvedeli ze oni tie velryby jedia.
You can notice a tourist boat at the background which arrive to Torshavn at the time of whaling. The people on board are not going to forget their visit to Faroe Islands.
Potom co ich vytiahnu z vody, ich bagrami a vysokozdviznymi vozikmi, proste tim co je po ruke, preniesu na miesto kde ich budu krajat.
After they are pulled out of water they are driven the their final destination, where the meat will be cuted.
Kazda velryba je odmerana a ocislovana, aby vedeli kolko ich chytili.
Each whale is measured!
Aj mensie deti behaju vsade po okoli. Vela ich prislo s ucitelkami zo skolky, aby si spestrili den a pofotili sa pri velrybach. Sem tam si deti so sebou do skoly odnesu zuby, a robia z toho nahrdelniky a naramky.
Childre are everywhere, watching the whales. Many children came with their kindergarten to a small trip to harbor.
Velkost velryby je vyryta do koze.
The size of the whale is engraved to its skin.
Tato fotka mi trochu pripada ako reklama na nejaky horor.
"The Nine" Coming to your cinemas this winter!

Tuto sa nachadzarozsiahlejsi clanok v anglictine o polovani na velryby na Fajeroch. Robia to uz teraz hlavne z tradicie, ale naozaj len tie velryby co dorozia blizko k ostrovom. Nepoluje sa na nich a ani sa neobchoduje s mesom. Takmer vsetko meso z velryby sa spracuje a rozdeli medzi ucastnikov lovu. Ak je velryb velmi vela tak sa meso rozdeli aj medzi ludi v meste kde velryby chytili a ak je toho este stale vela, tak sa rozda aj do susednych dedin. Staci sa len zapisat na zoznam a prist si vecer pre vysluzku. Fajercania ulovia kazdy rok cca 0.1% z celkovej populacie tohoto druhu velryb. Nie su moc velke dorastaju do velkosti cca 6 metrov.
Ospravedlnujem sa vopred za gramaticke chyby.
The yearly catch of whales at Faroe Islands represents 0.1% of total Pilot whale population. And even this procedure can seem to be quite drastic and barbarian, it isn't so. These spieces of whales are not endangered. And if you want to know more about Whaling in Faroe Islands, then read this article.