My younger sister Janka was visiting us in July and August. It was very nice having her around. We were not traveling a lot around Faroe Islands, but we were on few trips.
Janka bola u nas na navsteve v juli a auguste. Bolo nam s nou dobre, pomohla nam s vela vecami a stale nam vyvarala vselijake dobrotky. Necestovali sme moc po ostrovoch, lebo som bol dost zaneprazdneny fotenim svadibe a inou pracou, ale na par vyletoch sme boli.
First trip was to "Kirkjubøreyn" the mountain over the Tórshavn. There was a beautiful view of Tórshavn and Nólsoy.
Prvy vylet bol na "Kirkjuboreyn" kopec nad Torshavnom. Bol odtial krasny vyhlad na cely Torshavn a ostrov Nolsoy.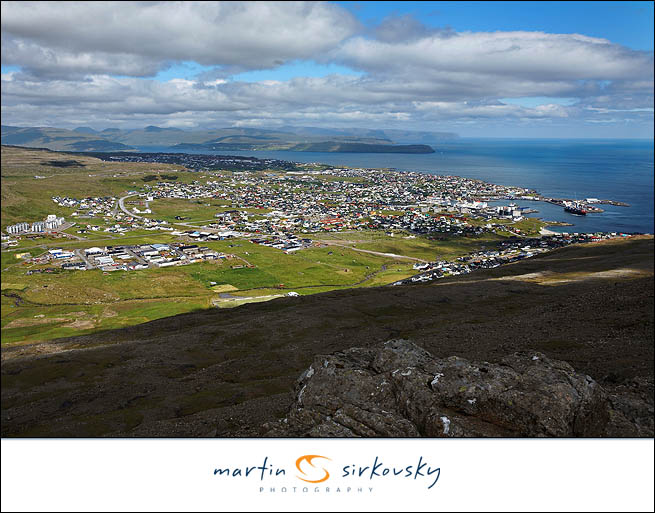 This is the part of town where we live – "Norðasta Horn".
Toto je cast mesta, v ktorej byvame – "Norðasta Horn".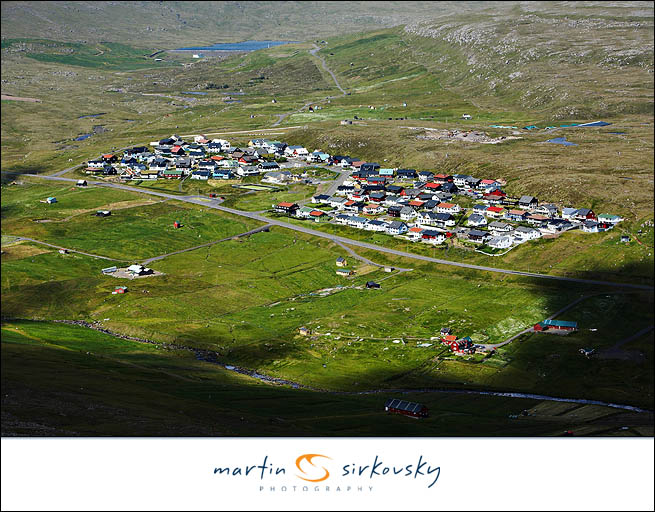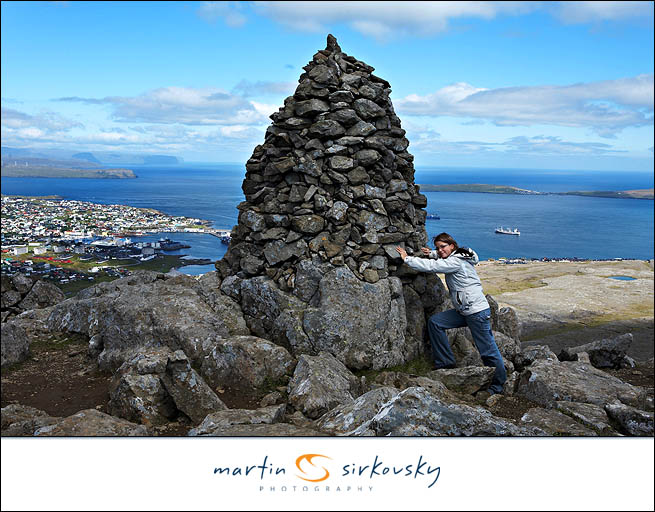 Second trip we made was to Vestmanna where we first drove on off road vehicles, thanks to ATV-Mountain. Afterwards we went on boat trip to see the famous Vestmanna Clifs.
Druhy vylet sme absolovali vo Vestmanne. Najprv sme isli na vylet na ternnych stvorkolkach a potom sme sa plavili na clne okolo utesov, ktore sa nachadzaju v okoli Vestmanny a tycia sa az do vysky 500 metrov.
At the end few pictures of Janka and our children. I promised her that I will take some and I kept my promise. Pictures are taken on airport, while the security is waiting for Janka to go through the check point as she was the last passenger.
Na zaver este par fotiek deti s Jankou. Slubil som jej ze ich spolu odfotim a ako to so mnou uz byva, tak som to stihol na poslednu chvilu. Fotky su fotene na letisku a pracovnici na letisku cakaju na Janku aby presla cez detektor kovou a aby jej mohli skontrolovat prirucnu batozinu. Prisla ako posledna do lietdala, ale stihla. Nie je dolezite zvitazit, ale zucastnit sa. 🙂